I did this LO for the December 2007 BOM (Book Of Me) challenge at DSO, by mrsaboyer The wordart is by me and you can get it below the layout if you want. For this LO, we were supposed to talk about our best Christmas present, material wise. I'm not usually a very materialistic person but what girl doesn't like diamonds? So mine would be the year that I ended up with two diamond rings! My husband had bought me one for Christmas (which I didn't know) and we found one in a 'treasure hunt' that was put on locally. This was the first time my husband and I decided to join in on this hunt, we had a lot of fun, trying to listen for and figure out the clues.
The Journaling reads...
The best Christmas present
I ever received, was the year I
got not one but two diamond rings.
A restaurant where we live
had a treasure hunt at Christmas time.
Tony and I found the treasure after 7 clues
and the third day of the hunt.
The ring in the bottom photo is
the one that we got as the prize.
The one in the top photo is the one
that he bought for me. So I now
proudly wear both of these rings!
Yes I'm truly blessed with a great husband!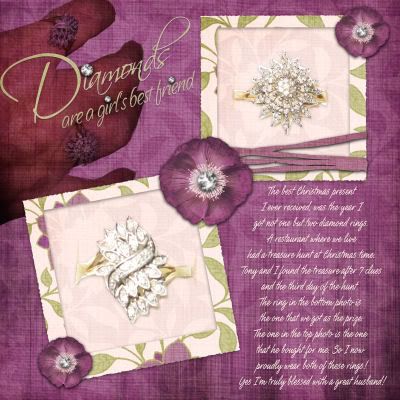 Credits...
bling-template by Kim Broedelet
Kit used is the WST Posting Gift by Kim Broedelet
Blings & Wordart by me
Fonts used are...
SlashHmkBold
Fonts used in wordart are Scriptina and SandyTextHmk
Dropshadow on preview only.


Download Here