I'm sorry I'm so late getting this posted today, but seems like every time I tried that something came up. Have you ever had one of those days?
Well I guess it's better late than never. LOL
I've got a lot to share with you today.

First, I'd like to share a LO with you that I did for the December Recipe Challenge over at DSO by Kristine.
I love to cook also, so I really enjoy these challenges. This recipe is Sausage Balls a big favorite around our house for the kids as well as the adults. They are very easy to make with only 3 ingredients! You can use hot sausage if you want, I don't because all the kids in our family like it too! Plus with my acid reflux , I
can't really eat anything hot and spicy. First the LO, the recipe follows.



You can see the LO full size in my gallery at DSO, click here
Or in my gallery at ScrapbookFlair click here

Credits for the LO ...
Kit used is Dec Heritage Bonus by FishinmomDesigns
Fonts used are Loki Cola & GilliesGotDLig

Here is the recipe
Sausage Balls
2 cup shredded Cheddar cheese
1 pound ground pork sausage
3 cups bisquick biscuit mix
Preheat oven to 350 degrees
In a large bowl, mix together biscuit mix, Cheddar cheese, and sausage.
Roll mixture into walnut-size balls and arrange on an ungreased cookie sheet.
Bake at 350 degrees for 5 to 15 minutes, or until completely cooked and browned.
Place on paper towels to drain and cool.

I would also like to share with you a LO and a QP made by others that used some of my stuff.

This first is a layout by Teenabugg
'The Many Faces Of Brandon'
This is her son, isn't he adorable? You can visit Teenabugg's gallery at ScrapbookFlair by clicking on her name.
And see this page and the credits by clicking on the layout. Be sure and leave Tennabugg and Brandon some love on her page if you stop by there. :)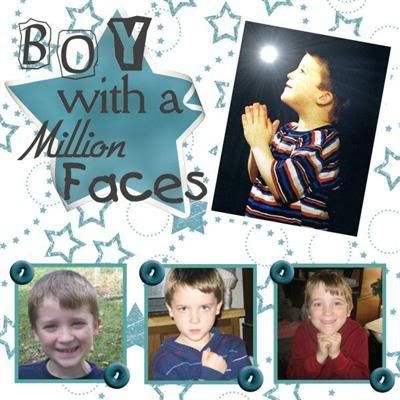 Tennabugg used my wordart 'Boy With A Million Faces'. You can get the wordart for yourself by clicking here if you missed it.



The second is a quickpage by Jaime, she doesn't have a blog yet, so I can't give you her link. :(




You can download this QP by clicking here
Leave Jamie some love and let her know that you like her work and we might get to see some more of it. :)
She used my 'Pretty In Pink' template to make this QP. You can get the template for yourself by clicking here for the PSD version, or here for the PSP version if you missed it. I also had papers and another QP with this post, you can find them by clicking the link above - 'Pretty In Pink'.


If you are still with me I have a freebie for you today. This is a saying that I used to say to my children when they were small, now my grandchildren are learning to say it. I did a LO the other day of two of my grandchildren who are only a couple months apart in age, boy and girl, they are cousins and are the youngest children of my two daughters. They don't get to see each other very often but when they do, they are inseparable.

Here is a preview of the wordart freebie, the drop shadow is only on the preview.
'I Love You'




You can download the wordart by clicking here

Have a nice day!
Kim