I have just finished a layout of my oldest granddaughter's first Halloween in 2000. The doodle that I used is bsc-blog-gliterr-swirlydoos-01 by
Bunny Cates
(resized & recolored). I made all of the papers myself with a special thanks to
Barb Dundas
for use of the Wrinkled & Crinkled Overlay.
Just click on the picture to see it full size.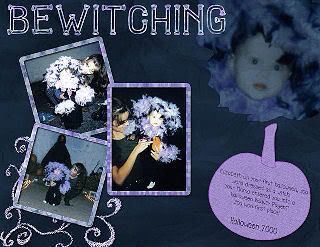 I decided to offer the papers as a freebie if anyone wants them. As you can tell by the preview, there are more papers in the download than I used.
You can download them
here
If you download them, please leave a note here or at 4 shared and let me know.