What crazy weather we are having! It has been up in the 60's today 70's yesterday, flowers are sprouting up everywhere. True springlike weather, Now they are predicting snow. Anywhere from 2-6 inches, which for our area is a lot. They close things down if things start turning white, so you can imagine what this will do. LOL I haven't saw this much snow here since 1985, have saw ice-storms but not this much snow at once since then. We are under a 'Winter Storm Watch' now through Saturday. Guess we will just have to wait and see what happens. It will give me a chance to share 'Snow Cream' with the grandchildren *Smiling*

I have a couple of LO's to share with you today. The first 'Dreamer' was done for the Heritage Challenge over at DSO. Also for June's Monday Challenge over at Cen's Loft. Plus Gabrielle asked me to use her kit in a LO. For the heritage challenge we were to use a new or recent photo and make it look like an old one. June's challenge we were given a great torn cardboard element pack and were to use at least two of the elements in a LO. I colored my cardboard to match the kit I used. I also used another of my birthday goodies in this LO - the Folded corner template. The photo is of one of my granddaughters.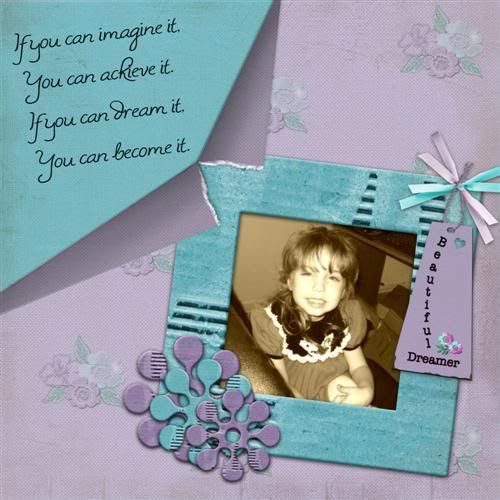 Credits...
Papers, ribbons & tag from 'Beautiful Dreamer' kit by Gabrielle
Cardboard flowers & frame from 'Torn Cardboard Elements' by Cen's Stuff - (recolored)
Folded corner template Set 4 by Karah Fredricks
Photo by me
Font used is MA Simple Pleasure

My next LO was done for the ICBYST challenge over at DSO. Also for the Texas Twostep template challenge over at MIS. I also managed to scrap another of my older photos with this one. This photo is of one of my four babies, my youngest son who now has a baby of his own. The papers in this LO where all made by me, using some of June's overlays You will be able to grab the paper pack below.



Credits...
Around the Bend template by Tracy Drane
Glitter Swirlydoo by Bunny Cates
Stitches by Jasmin-Olya
Fonts used are Apoplex & JackieFull
Papers are all by me - Kim's Scrappin'

Now if you would like the paper pack, which is great for all your LO's of your guys.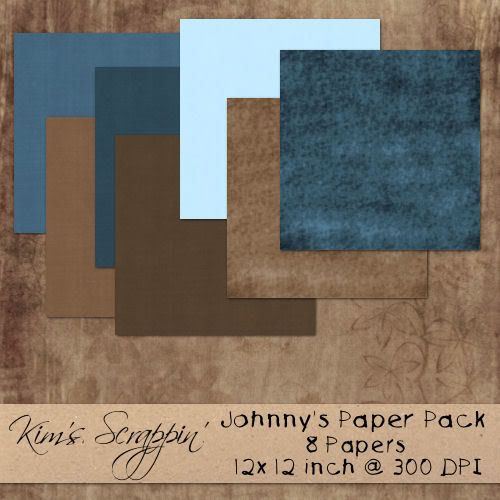 You can download Johnny's Paper Pack here.

Quote For The Day

The trouble with weather forecasting is that it's right too often for us to ignore it and wrong too often for us to rely on it.
~Patrick Young

Share a smile with someone today!
Kim