Just had to post this today.
Because today is the day that the US is celebrating Veterans Day,
I did this layout in remembrance of my grandfather, Dora William Jones.
Created for the DSO November Shape Challenge
Journaling reads ...
You are my grandfather, although I never met you.
You passed away before I was even born.
All I have of you is this picture, that you signed
and sent home, and your military records.
You served in the U.S. Navy during World War 2
Thank you for being the father of my Daddy,
and for fighting for the US, so that your descendants
could live free.
With all my love, your granddaughter, Kim

You can click on the image to see it a little bigger.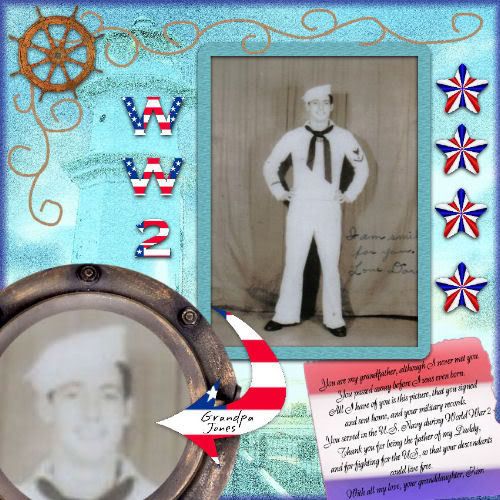 Credits ...
I used the zoom template by Tracy Drane (again) for this layout.
The ship's wheel, the port hole, the background are all from the kit -
Kit La Marine by scrapteamphotofiltre
The frame, journaling paper, stars, & (paper to fill) arrow are all by me
fonts used are
CopperplateTBol, FrancineHmk, & DesertDogHmk


Thank you for looking at my layout. And thank you to all the Veterans!